Hawaiian Lomi Lomi Massage Workshop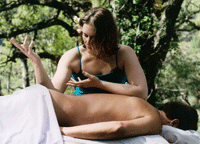 This Class has been cancelled you can see our retreat in Hawaii, Holland and the UK for other options.
For centuries the ancient art of Hawaiian Lomi Lomi massage has been used as a powerful tool for maintaining a healthy way of life.  The long, flowing strokes use forearms and elbows giving the feeling of many hands on the body at once.
In this class you will learn:
-The history and philosophy surrounding this work including the practice of ho'oponopono.
- Hawaiian chants, breath and movement exercises to activate your energy potential.
- Lomi Lomi techniques including a full body routine that lasts 1-2 hours.
-Stretching and range of motion techniques to open joint spaces and move fluids through the body.
- Self-Lomi for honoring and maintaining your own body.
Carrie Rowell is an internationally certified instructor who lives in Hawaii where she has studied  the healing arts with several Hawaiian master practitioners. Since 1998 she has traveled the world teaching massage.  Her courses are accredited for continuing education in the US, UK, Australia, New Zealand and Canada.