Hawaiian Lomi Lomi Massage Courses in Holland
Get your summer Aloha with Hamoea Healing Arts traveling from Hawaii.

Centrum Nieuwe Langendijk
Nieuwe Langendijk 3
2611 VG Delft
Hawaiian Lomi Lomi Massage Basic 4-Day Workshop
For centuries the ancient art of Hawaiian Lomi Lomi massage has been used as a powerful tool for maintaining a healthy way of life. The strokes are long and flowing, using forearms and elbows, and giving the feeling of many hands on the body at once.
Each day you will learn new exercises and massage techniques designed to harness the power of the elements earth, air, water and fire. This massage is profoundly relaxing, creating a deep trance state to allow the receiver to identify and dissolve limiting beliefs that cause illness in the body.
All seminars incorporate movement and breath exercises, specific Hawaiian Massage techniques and exercises for self care. The Hawaiian practices of Pule-prayer, Oli-chant and Ho'oponopono-a focus on right thought and action and a process for conflict resolution are an integral part of every course.
In this class you will learn:
- A Basic Full Body Lomi Lomi Massage Routine
- Self-Lomi Techniques for Maintaining Your Own Body
- Traditional Hawaiian Breath and Movement Exercises 
-Signature Lomi Lomi Strokes Guaranteed to Inspire Your Bodywork Practice
Practitioners work on each other and switch partners to learn how to apply the techniques to different body types. Individual attention is given by the instructor so that the students learn how utilize their body mechanics in the most efficient way for them.
Students who pass this course will receive a certificate in Hawaiian Lomi Lomi Massage.  Courses run from 10am-5pm daily.
Pay Only €495 before March 1 or €545 after for 4 days of training. 
€695 before March 1 or €765 after for basic and advanced 6 days of training.
Space is limited to 16 students so register now. 

Reserve your spot in any course with a deposit below or email for bank details.
Advanced Lomi Lomi Weekend Course June 21-22 2018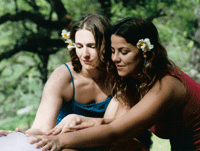 A chance for students new and old to get together and share the gift of Aloha.  Lomi iwi (bone washing) deep lomi integration, fine tuning, above and below the body work, tandem lomi and more.  Open to my former basic graduate students and those in the June 2018 basic course. 
You have to have passed at least the 4 day basic course with me to enroll in this class regardless of prior training in other lineages due to the great difference in styles between families and islands.
 €225 before March 1 or €250 after for 12 hours of training.
Space is limited to 16 students so register now.